Clever Cutter 2 in 1 Scissor Knife with Cutting Board
Clever Cutter 2 in 1 Scissor Knife with Cutting Board
This Clever Cutter quickly and safely slices and chops foods for perfect pieces without any mess.
The 2-in-1 scissor knife and cutting board feature a premium. super-sharp stainless steel blade and a portable cutting board surface for easy slicing in any environment. From veggies and fruits to proteins and cheese. the Clever Cutter slices 10x faster than your average knife. Chop chicken into your salad or add veggies straight into soup; no more tricky transfers from a cutting board or excess scraps making your kitchen a mess.
The convenient Clever Cutter 2 in 1 Scissor Knife with Cutting Board opens wide for larger foods. such as baguettes. and has power-pressure handles that automatically open for quick. effortless slicing. Make food prep fun and easy with this versatile kitchen tool. 
FEATURES
Instead of Your Knife and Cutting Board - A combination of food chopper and the cutting board makes cutting. slicing and dicing easy and fast. save you time and money.
Safe and Convenient - Dishwasher safe for easy cleaning. Locking a safety hinge helps prevent accidental cuts. hang on the wall. avoid children touching.
Ergonomic Design & Multi-Purpose - Made from PP plastic handle makes it extremely comfortable grip. Small design. space-saving . also helps to easily carry for a picnic. barbecue . etc.
Super Sharp Blade & Effort Saving - Made from strong and sturdy stainless steel. A super sharp blade makes it easier to chop various food with little effort. Avoid your hand injury due to excessive force.
Easy to Clean and Use - dishwasher safe Replace all your kitchen knives and cutlery with one easy to use the device. fast easy the combination of razor-sharp stainless steel blades and cutting board makes cutting. slicing and dicing easy and fast.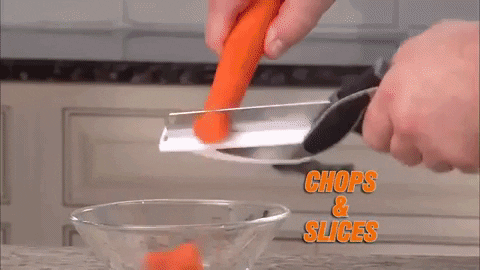 SPECIFICATION
Material: Stainless Steel Blade & ABS Handle

Whole Length: 23.5cm

Blade Length: 10.2cm

Blade Width: 2.7cm
PACKAGE INCLUDES