WATERPROOF ELECTRIC FISH SCALER
SCALE FISH IN MINUTES WITH NO EFFORT
Fishing is great but aren't you tired of the long annoying task of scaling fish? Your hands are hurting and besides that, the process is always taking some good time.
The good news is that you can now scale fish with zero effort and in just minutes by the help of our Electric Fish Scaler which is a 100% IPX7 Waterproof handy tool, driven by an all-copper motor, with a Steel Blade that never rusts or damages the fish skin.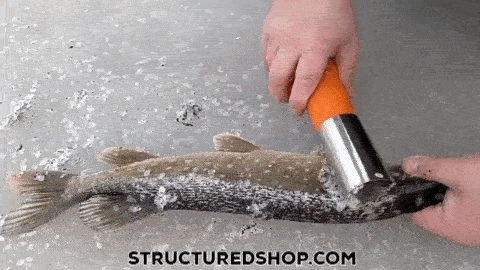 KEY BENEFITS OF THE ELECTRIC FISH SCALER
EFFORTLESS: Forget about the long annoying and manual process of fish scaling when you can now scale fish in minutes with zero effort. The Electric Scaler has a fully submissive waterproof casing with Fish Scale Blade guards.
RECHARGEABLE:Comes with a charger and has a built-in rechargeable, long time last battery and powerful motor allowing you to use the cordless fish scaler anywhere.
EFFECTIVE:Simple to use and straight to the point. The food safety 304 stainless steel blades never rust or damage the fish skin.
The Electric Fish Scaler masters a job which you should forget about and it's suitable for home use, markets, restaurants, fishery, and many more. Comes with a charger and it's simple to use, yet very effective. Uses a 1500mA, 12V lithium battery which fully charges in just an hour, and then it's ready to go for 4-5 hours.